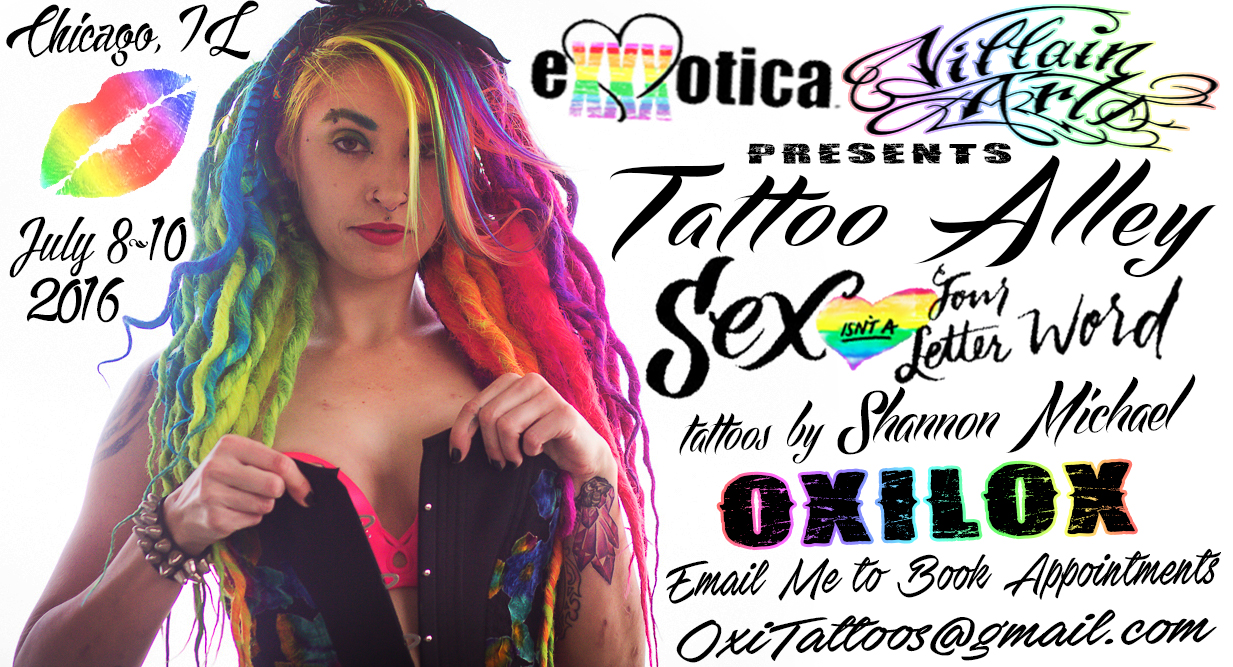 Want to catch me tattooing in my most risque of outfits? Well now is the chance you've been waiting for. I'll be tattooing all 3 days for the Exxxotica Expo in Chicago IL. July 8th-10th in the Tattoo Alley of the expo.
EXXXOTICA is The Largest Adult Event in the USA Dedicated to Love & Sex. Taking place over three days, this event was created for adults who are looking for something Sexy, something Fun, something Different and some NEW INK!
I would like to offer Rainbow Pulse tattoos to benefit the United Pride Orlando fund to which the proceeds of these specific tattoos will go towards helping aid the families and loved ones affected by the shooting at the Pulse night club in Orlando Florida. I'll have a choice of flash drawn and ready. Anyone can donate to this fund even if you don't get a tattoo please come out and donate.
Not only will I be there making rad tattoos but I will have t-shirts for sale and you can get a chance to take some pictures with me and pick up an exclusive signed prints of myself which will only be available at this show. Get them while they are hot. Trust me they are hot.
Tickets are $39.99 for 1-Day General Admission, $69.99 for 1-Day VIP Admission & $139.99 for 3-Day VIP Admission
Donald E. Stephens Convention Center
9291 Bryn Mawr Ave.
Rosemont, IL 60018
Chicago I'm back again and more scantily clad then ever and I just cant not wait to show you what I can do!
Email me for Appointments at OxiTattoos@gmail.com
Tattoo Alley presented to you by VillianArts